Helping others Help Themselves: Countywide Community Development Corporation
Story By Steph Medeiros
Photography By Logan Wallace
It's exciting to see a small community like Brunswick County blossom, but like any community on the rise, Brunswick County has a growing set of needs. New offices need to be staffed, affordable homes need to be built and older homes are in need of repair. Unfortunately, many residents of Brunswick County face serious barriers to fulfilling these needs.
Some residents may be in dead-end jobs or unemployed but cannot afford to go back to school. Some may want to take advantage of the buyer's market, but don't know the first thing about purchasing a home. Other residents may have trouble getting out of debt or establishing credit, making it nearly impossible to rent an apartment or even buy a car. Thankfully, there is an organization that can help.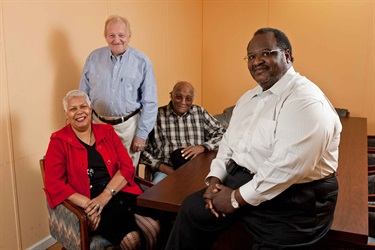 This spring marks the tenth anniversary of Countywide Community Development Corporation, or Countywide CDC, an IRS-designated 501 (3) nonprofit organization whose mantra is "Helping Others Help Themselves." Countywide CDC is a small but highly committed organization that provides community members with much-needed assistance programs.
Countywide CDC Executive Director Louis Brown and his staff share a modest office at 1183 Old Mill Road in Navassa. Brown was Navassa's first mayor, serving from the town's incorporation in 1977 to 1999. With the Countywide CDC, Brown and his enthusiastic staff are making big differences in people's lives every day.
Dedicated to empowering the less-fortunate members of the population the folks at Countywide CDC seem to love their jobs — despite the challenges they faced in the beginning. Brown started the organization with little money and little support. "After they said we couldn't have a CDC ... well, that was the wrong thing to say to me," says Brown with a laugh.
Brown's determination helped turn his vision into reality. Countywide CDC got its official start in 2001 and now offers community members the opportunity to go back to school, improve their credit and even prepare for buying their first home — all at little to no cost. Currently, four assistance programs are offered; however, there's always something on the drawing board as the staff evaluates the growing needs of the community. One of the programs they are most proud of is Project Uplift, a job-training program.
"Project Uplift is the flagship of our organization," says Joe O'Brien, marketing coordinator. The organization's longest-running program, Project Uplift provides eligible residents the opportunity to learn a trade skill and eventually gain employment. Participants receive ten weeks of customized classroom and hands-on training in fields like office administration, healthcare, construction or custodial services.
But it isn't just about learning a trade. The people of Countywide CDC want their students to be prepared for employment after graduation. "Interviewing skills, resume writing and raising their confidence is also part of the program," says Toni Melvin Whitaker, program manager.
"I like to say we grow people," adds O'Brien, with a smile. "It's not just finding them a job. It's giving them a career."
Overall, Project Uplift has been successful, though Whitaker says she would love to see more participants. With waived tuition and waived fees for many of the classes, Whitaker says she's surprised people aren't "beating their doors down" for information.
In addition to Project Uplift, Countywide CDC also offers programs for residents who want to improve their credit, buy a home or repair their home. Fresh Start is a counseling program in which participants learn how to establish and maintain good credit. And unlike Project Uplift, Fresh Start does not have a designated time frame.
"We stick with them as long as it takes," says Whitaker.
For residents who want to start down the road to home ownership, Countywide CDC offers HOPE: Home Ownership Preparation Education. Anyone who has bought a home before probably remembers the confusion and intimidation that comes with a first-time purchase. The goal of HOPE, according to Whitaker, is to educate participants on the entire home-buying process.
According to Whitaker, for every beautiful new home in the area there is also an older home in need of remodeling or repair. That's where Donal N. Thomas comes in. Thomas manages the rapidly growing weatherization program. In this program, work crews of local residents evaluate homes in need and make the necessary repairs, particularly insulation repair. The program is intended for residents who are unable to afford to make the necessary repairs themselves. According to Thomas, the organization also has done some remodeling for homes that have been damaged.
"The weatherization program has really taken off in the last year," says Chief Operation Officer Benjamin Quattlebaum II. Thanks to the American Recovery and Reinvestment Act of 2009, Countywide CDC's weatherization program has boomed.
"We've been doing it since '03 or '04, but with the stimulus, we've seen a major boost in [the] volume of work," says Quattlebaum. "From February to December of 2010, the program made more than 125 home repairs."
When talking to Quattlebaum and the rest of the staff, it's easy to see how proud they are of their organization and its accomplishments. The enthusiasm shared by the staff is not only inspiring, it's contagious. By the end of my meeting with them, after they graciously fed me pizza and showed me photos of their graduates as if they were showing off pictures of their own family, I felt determined to give them the best one thousand words I could. That's what happens when you're among people who have a genuine desire to help — it makes you want to help, too. And behold, a community of people helping others help themselves is born.
For more information on Countywide Community Development Corporation, or to volunteer, call Toni Melvin Whitaker at (910) 383-1724 or write to them at P.O. Box 1261 Leland, NC 28451.